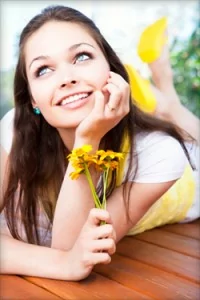 If you have a missing tooth or missing teeth, you no doubt understand the hassles that accompany this problem. You may already have dentures, and though they are sometimes helpful, they can often bring on difficulties of their own. Or you may even just be suffering with having no teeth at all in that missing part of your mouth. Your experience can range from mere annoyance to embarrassment and even threatening your health.
Fortunately, Drs. Dankworth at La Costa Dental Excellence office in San Marcos CA can offer you implant dentistry options that may be able to give you the teeth and smile you have always longed for. Teeth implants as a means for tooth replacement can be a viable and effective option for you.
What are Dental Implants
Teeth implants using dental implants are a great method of tooth replacement and will provide an anchor for a missing tooth or the longer bridges used for more than one missing tooth. Teeth implants in San Marcos CA and Carlsbad can also fill in the entire space in your mouth.
In general, the idea behind a tooth replacement using teeth implants is the same. Today's implant dentistry has up to date technology and procedures that can create a beautiful, full smile for you with teeth implants that function like your natural teeth.
"After a lot of online searching and talking to people I ended up at La Costa Dental Excellence, and I'm really, really, happy that I did! What makes them good dentists is that they're really friendly, which is important, as well as being well-schooled."
– Lorri
Am I a Candidate for Dental Implants?

The ideal candidate for a tooth replacement using a dental implant understandably needs a tooth replacement and is looking for a solution. You might be a current denture wearer and ready for something that can be remarkably more convenient, comfortable, more attractive and longer lasting than your prior solution. For teeth implants you need to be in good general and oral health. Adequate bone in your jaw is needed for teeth implants, and the best candidates have healthy gum tissues that are free of periodontal disease.
Teeth implants are intimately connected with the gum tissues and underlying bone in the mouth. The doctors at La Costa Dental Excellence in Encinitas and San Marcos CA are ideal members of your implant dentistry team. Not only do they have experience working with dozens of patients with similar circumstances as you, they also have the special knowledge, training and facilities that you need to have teeth that look and feel just like your own.
How to Choose an Implant Dentist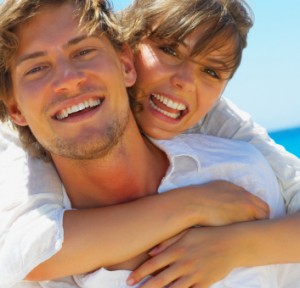 When looking for an dental implant dentist, the truth is, not every dental implant dentist is created alike. We at La Costa Dental Excellence in Encinitas and San Marcos CA use a variety of dental technology practices that we believe will help you decide that we can be your dental implant dentist practice for life!
Dental Implant Technology
Over the years, dental implant dentist Dr. Stephen Dankworth and dental implant dentist Dr. Kimberly Corrigan-Dankworth have implemented specific dental technology procedures to ensure we offer the highest level of dentistry and dental technology available in Encinitas and San Marcos CA.
Our dental implant dentist staff near Carlsbad and San Marcos CA are pioneers in sedation dentistry in North San Diego County.
Our office environment and dental technology in Encinitas and San Marcos CA is a highlight of our patients' experience when visiting. Our dental implant dentist team in Carlsbad and San Marcos CA can make sure you are welcomed and treated warmly from start to finish.
Implants vs Dentures or Bridges
Dentures or Implants
If you have few or no teeth, you have most likely considered getting dentures or implants in Encinitas and San Marcos CA. For many years, these were your only option, and considering the alternative, were a blessing. However, traditional dentures have many drawbacks. There is a more up to date dental technology in Encinitas and San Marcos that now offers you a choice – dental implants that can support a dental bridge. So the question you might be asking yourself is dentures or implants. Looking at the drawbacks of traditional dentures compared to the benefits of a dental bridge supported by implants, the choice of dentures or implants in Encinitas and San Marcos CA may be one the easiest decisions you can ever make!
The many drawbacks caused by traditional dentures are:
Because they rest right on top of your gums, the dentures have no real support. Thus, the gums and jawbone lack the stimulation of your natural tooth roots to keep them strong and healthy.
Bone loss, receding gums, and altering your facial shape is not uncommon for those who wear dentures.
Dentures often need resizing to make sure they fit on the patient's receding gums, meaning more visits to their dentist.
Denture wearers can be at risk for periodontal disease.
Dentures often slip and slide, cause gum irritation, afford less than satisfactory chewing support, and impaired talking ability.
Dentures can cause embarrassing clicking or sucking noises, and wearers often experience decreased taste in the food they eat.
So – Dentures or Implants?
In the case of one missing tooth, a dental implant in San Marcos CA and Encinitas seems the natural choice. But how can dentures or implants help if you have several teeth missing? Implant supported dentures are an excellent option because the dental bridge is attached to implants that are sturdy, permanent replacements for a missing tooth or teeth. Instead of getting all your teeth replaced with dental implants, which can be costly, you get one dental implant and then have the dental bridge attach so it is secure. The dental implants in Encinitas and San Marcos CA offer chewing support and stability for the dentures, which are attached to the top. In many cases, the dental bridge attachment allows the dentures or implants to be removed for easy cleaning.
Dental Implant FAQ
What is a dental implant?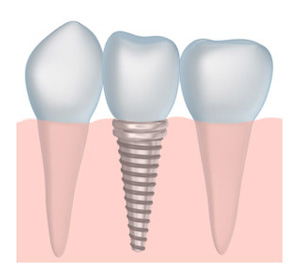 A dental implant is used by an implant dentist to replace a missing tooth. It is a type of anchor that is usually made of titanium – a strong, durable material that is harmless to your system. The anchor is inserted by a implant dentist into the jaw to take the place of the original tooth's root. When the bone has attached to the anchor, an implant dentist in San Marcos CA and Encinitas will place the replacement tooth on top. Through implant dentistry, the teeth implant then looks and feels just like a natural tooth.
Will the new teeth appear natural?
With the incredible technology used in implant dentistry in San Marcos CA and Encinitas, dental implants placed by your implant dentist will seem so natural, you may forget they are teeth implants! A teeth implant from an implant dentist looks, feels, chews, and helps you speak just like a regular tooth.
Am I a good candidate for dental implants?
Anyone who has overall good oral health will likely be a good candidate in San Marcos CA and Encinitas to work with an implant dentist for teeth implant procedures. The two main factors to consider for this teeth implant procedure in Encinitas and San Marcos are the health of the patient and the bone that is present in the jaw. Any person that is currently missing one or more teeth due to problems such as decay, disease or injury may be the perfect candidate in Carlsbad for implant dentistry procedure.
Is the procedure very successful?
Teeth implant procedures by an implant dentist in Encinitas and San Marcos CA have been performed for over 30 years and provided successful results for many happy patients! If you want long lasting results from the teeth implant and implant dentistry, good oral care is a must. Choosing the right implant dentist in San Marcos CA and Carlsbad can also make your implant dentistry experience successful.
Will the procedure be very painful?
Implant dentist Dr. Dankworth in Encinitas and San Marcos CA uses local anesthesia during the implant dentistry procedure to ensure that you feel no discomfort. Additionally, you may have pain pills prescribed after the teeth implant procedure to eliminate additional pain from the teeth implant. Most of our implant dentistry patients in San Marcos CA and Encinitas have indicated that they experience little to no pain due to the teeth implant surgery and thanks to the implant dentist they will likely be able to return to work the next day.
Contact Us in Carlsbad to Learn About Implant Dentistry!
Interested in learning more about implant dentistry? Simply call our implant dentist in Carlsbad to learn more about our implant dentistry procedure! We serve patients throughout Encinitas and San Marcos, CA.
You May Also Be Interested In