Nearly Invisible Braces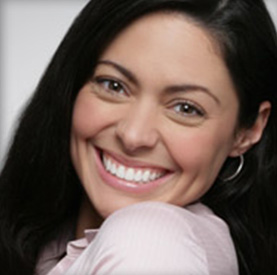 If you are considering getting braces to help you have a straighter, more beautiful smile, you may have heard of Invisalign braces.
What is Invisalign? Simply put, Invisalign braces are a treatment method that uses invisible braces. Invisalign is a system that consists of using a series of invisible trays or aligners that gradually straighten your teeth. No one can see them, so you can smile while your teeth are being straightened and your smile is becoming more and more beautiful. These invisible braces trays are removable, so you can eat whatever foods you like, unlike the food limitations often prescribed with traditional metal braces. The convenience and ease of removing the trays also makes brushing and flossing so much easier. The trays are custom made for you and you will usually receive a new set of trays every few weeks.
Benefits of Invisalign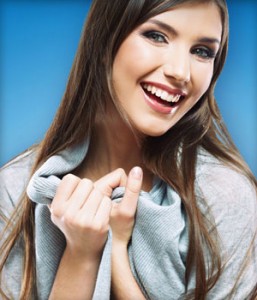 If you are looking for a great solution to help you get straight teeth, Invisalign clear braces have a lot of things going for them:

Easy to Clean

One appealing benefit offered by Invisalign clear braces is the fact that your teeth are still easy to clean. Since the Invisalign trays are easily removed, you can brush and floss your teeth as you normally would. You do not have to worry about food getting stuck in your teeth while you eat as so often happens with traditional braces, so proper personal dental care is much easier. And you don't have to worry every time you eat that your smile may look unsightly until you can brush your teeth again. Another benefit to the removable trays is that keeping your teeth clean is easier, you may experience better dental health generally. Maintaining good dental health is often really difficult with traditional braces because brushing and flossing with the wires and brackets isn't always that effective.

Invisible

Invisalign clear braces are just that – clear! You can smile, have your picture taken, go to any function and not feel embarrassed about your braces. It is amazing how confident you can feel when you know you will have straight teeth and a gorgeous smile, but don't have to go into hiding until this is accomplished!

Kinder to your Mouth

Invisalign clear braces aren't made of metal, so they don't have wires that can irritate, cut and scar the inside of your mouth. This makes them far more comfortable as they provide the straight teeth you dream of.

Less Time

The Invisalign clear braces system can often take less time to provide you with straight teeth than traditional metal braces. This alone is a huge benefit. You will get a gorgeous smile sooner than if you chose the traditional braces method! Imagine being able to flash a fabulous smile while you're having your teeth straightened, but not having to have any kind of appliance in your mouth is less time! It's fabulous!
"My husband and I are new to the area and it has been a breath of fresh air to have found La Costa Dental Excellence for our Invisalign and all of our dental cleanings. They are very friendly and professional and have the highest quality of services I've ever experienced."
– Jessica F
How Does Invisalign Work?
Invisalign Treatment in Carlsbad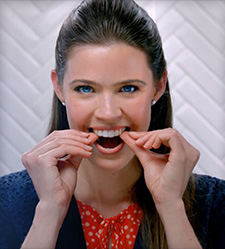 If you are looking for a fantastic solution to create a beautiful smile, Invisalign clear braces may be the answer for you! Here at La Costa Dental Excellence, we have helped many people with bad bites or smiles they'd like corrected to straighten teeth with amazing results.
Invisalign clear braces provides you with a modern approach to getting the smile of your dreams.

The process for Invisalign clear braces treatment is rather straightforward:
During your initial appointment, we will give you an evaluation to see if you are viable candidate for Invisalign treatment.
If you are, at that very appointment, we can begin the process. We will take a mold of your teeth that is then analyzed by our doctors. They will create a system to correct bad bites and straighten teeth.
Using up to date technology, Invisalign clear braces trays are created that straighten teeth and take your smile from where it is to where it needs to be.
Every few weeks, you come to our office and receive a new set of trays that gradually straighten teeth. These fix bad bites progressively, one set of trays at a time.
The trays are constructed from a smooth and comfortable type of plastic that is virtually invisible. You will wear these over your teeth, typically for a period of two weeks, at which time you will insert a new set of aligners to further move your teeth into the proper position.
The Invisalign clear braces used to straighten teeth and correct bad bites have no metal brackets or wires that traditional metal braces implement, so there is no cutting or scarring inside your mouth. And there are no rubber bands that are messy and difficult to apply. You simply put in a new set of the Invisalign trays every few weeks until the treatment to straighten teeth is complete. Once completed, you will achieve a great looking smile with virtually no interference in your day to day routine.

Learn More About How Invisalign Treatment Straightens Teeth!
Invisalign treatment almost sounds too easy! It really is a simple, time efficient process that can give you the smile of your dreams! Questions? Call us today to learn more about clear braces or to schedule an Invisalign consultation with us. Dr. Dankworth and his team are here for patients in the Carlsbad area, from Encinitas to San Marcos, CA!
You May Also Be Interested In