What Are Dental Implants?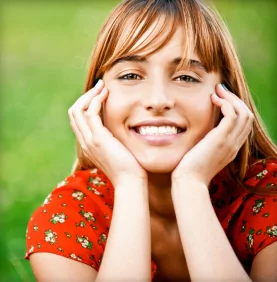 Is your smile disrupted by missing or damaged teeth? One of the best methods in Encinitas and San Marcos CA to restore your smile if it is impaired by missing teeth or other issues is a treatment called dental implants. So what are dental implants?
There are two types of dental implants in San Marcos CA: mini implants and titanium dental implants. Simply put, you will have a replacement tooth placed into your jaw surgically. The mini implants or titanium implants provide a strong and solid foundation for a permanent or removal tooth replacement or teeth. The teeth used as replacements in Encinitas are custom designed to fit each patient's mouth and match their natural teeth.  Whether you need mini implants or titanium dental implants, Drs. Dankworth in Encinitas and San Marcos CA work hard to ensure that you are knowledgeable about what are dental implants, and how each dental implant we create provides excellent results for you.
Mini Dental Implants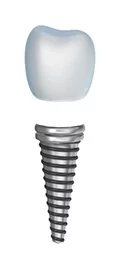 At La Costa Dental Excellence near San Marcos CA and Encinitas you have the option of MDI's, more commonly known as Mini Dental Implants. The use of mini implants has changed the entire dental implant industry. When you undergo a traditional full implant procedure, then you can face many visits to the dentist office. With the use of mini implants, however, there will be no need for any type of surgical procedure. The development of this mini implants technology in Encinitas and San Marcos CA allows the dentists to place an anchor for your mini implant in only one noninvasive treatment.
There are many uses for mini implants in San Marcos CA; one of the most common uses for mini implants is to stabilize existing dentures or overdentures. The use of mini implants will anchor the prosthesis firmly in place.  By anchoring the prosthesis in place, these mini implants fix the issue of poorly fit or loose dentures.

Titanium Dental Implants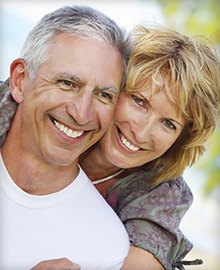 When it comes to finding out what are dental implants, the most common option is the use of titanium dental implants that uses a titanium post, which is anchored and then acts as a post for the crown that is custom made for you. Once the crown has been placed into the anchor, it looks and feels and functions like your natural teeth!
Additionally, Dr. Dankworth in Encinitas and San Marcos CA will work to create a type of custom metal framework that can actually help to restore your jawbone so that the titanium dental implants have a stable anchor. The use of titanium dental implants has existed since the 1970s and can provide exceptional success. Titanium is strong and lightweight, which means that titanium dental implants provide many benefits. It is also a biocompatible material, which means that the body will not reject the implant.

Benefits of Dental Implants
If you are considering getting a dental implant, we at LaCost Dental Excellence near Encinitas and San Marcos CA would like to share with you several of the benefits you can enjoy when getting this dental implant treatment. Along with making your smile complete and gorgeous, some other benefits of tooth implants include:

Aesthetic Appearance Improvements
When correctly placed, a dental implant will look and feel like your natural teeth. Tooth implants are created to fuse with your jawbone. Thus, the dental implant is permanent and your smile with tooth implants will be as full and beautiful as you always have dreamed it could be.

Increased Comfort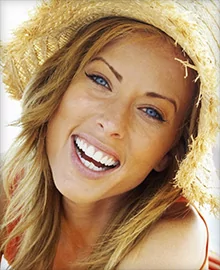 If you are missing teeth you may consider getting dentures. Traditional dentures have several drawbacks: they often fit poorly, which can be painful. Because your tooth roots are removed when you are fitted for dentures, you most likely will experience additional bone loss, which alters the structure of your face. With dental implant supported dentures in San Marcos, it becomes just like a natural tooth that doesn't need to be removed.  Implant supported dentures will not cause bone loss, and won't embarrass you – no matter what!
"I had 4 extractions and 2 implants and it was painless. Dr. Kimberly Corrigan-Dankworth did an amazing job. I had the work done on Tuesday followed her instructions Wednesday was July 4th and I was back to work on Thursday. I picked up the temporary bridge today and it was a great fit. Thank you for making the process as easy as possible."
– Susan W
No Embarrassment
Traditional denture wearers often report that their dentures don't fit properly or aren't affixed well and then embarrassing things can happen! Some denture wearers have had their dentures fall out or slip while they are talking or eating. They also are concerned when their speaking becomes slurred or they sound like they're mumbling resulting from poor fitting dentures. Implant supported dentures in Encinitas and San Marcos CA are a permanent solution to teeth loss.  With implant supported dentures there is no longer the fear of teeth slipping or falling out. With implant supported dentures, you can speak clearly and easily.

Easier Eating Capabilities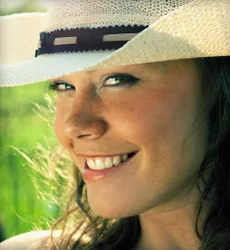 Eating with dentures can often be very difficult. You worry that your dentures will slip or fall out, which, of course, makes any eating impossible. And with traditional dentures, there are certain foods that are off limits because dentures can't tolerate the pressure put on them when eating things like apples or corn on the cob. Dental implant supported dentures will function almost identical to your natural teeth, which allows you to eat any type of food with no pain or the fear of your implant supported dentures malfunctioning.

Improved Convenience
Removable dentures must be put in and taken out, which is unnatural and annoying for wearers. And it isn't convenient to have to take your teeth out to scrub them after every meal. With tooth implants, however, they stay IN your mouth 24/7 – just like your natural teeth! And obviously, permanent tooth implants in Carlsbad and San Marcos CA will eliminate the need for any type of denture adhesive, making life much easier for you.

Improved Durability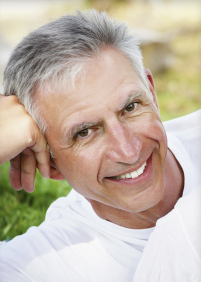 A Dental implant, when properly maintained and cared for, can last your whole lifetime. The tooth implants provided by La Costa Dental Excellence are made to provide a lifetime of durable, gorgeous smiles!
Oral Health Improvement
In severe cases even root canal therapy cannot restore unhealthy teeth and an extraction will need to be performed. Teeth that have suffered extensive damage are more susceptible to further degradation and bacterial buildup. Bacteria that sits within cracks or chips can worsen existing decay, severely weakening the tooth and surrounding tissue, including the gums. Replacing damaged teeth with dental implants and implant-supported dentures will help to ensure that your oral health is stabilized and prevent issues further on.


The Dental Implants Procedure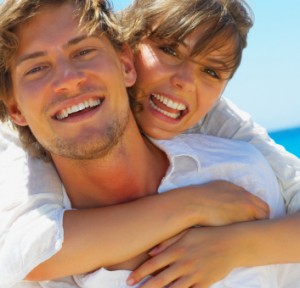 If you have missing or damaged teeth and are ready to invest in the smile of your dreams, getting a teeth implants procedure in Encinitas is an excellent option. Of course, if you have only one missing or damaged tooth, a single tooth implant procedure in San Marcos CA is an equally great choice. The tooth implant procedure in San Marcos CA is a process of placing dental implants into your jawbone and this dental implant procedure consists of two main components: a metal post that is embedded in the bone and a prosthetic tooth on top.
The metal post portion of the dental implant is typically made of titanium or titanium alloy and is constructed like a screw, with several threads that fasten the metal tightly in place. In addition, through a process called "osseointegration", the bone will literally fuse with the dental implant in the few months, making the dental implant procedure in Encinitas and San Marcos CA a very durable, enduring solution.
The tooth implant procedure requires that the prosthetic tooth is then attached to the dental implant after it has healed and attached itself. Perfectly matched to the color of your existing teeth, the replacement dental crown is virtually indistinguishable from your natural teeth, making your smile gorgeous once again. The tooth implant procedure also makes eating, biting, and chewing comfortable again.

Tooth Implant Procedure
The tooth implant procedure is straightforward.
After evaluating whether you qualify for a tooth implant procedure or dental implant procedure, one of our well-trained doctors takes a detailed impression of both of your upper and lower arches and sends them to the dental lab for casting. The casts are articulated and barium sulfate teeth are placed in the proper dental implant sites for the dental implant procedure.
A scanning appliance is created by the lab and returned to La Costa Dental Excellence in Encinitas and San Marcos CA, where one of our doctors analyzes the scanning appliance for proper fit. You will then be sent for a CT scan to determine the dental implant procedure.
After the CT scan, the information is loaded into specialized software, designed to precisely determine the precise position for the dental implant procedure.
The finished surgical appliance is completed by the lab and returned to Dr. Dankworth in Encinitas, who positions and installs the dental implant posts into the bone.
The final step to the dental implant procedure is the post or posts are then able to have the porcelain crowns placed. Finally, with a dental implant procedure you have your lovely smile back–good as new!
Call the doctors at La Costa Dental Excellence in Encinitas and San Marcos CA today and we will be happy to give you all the information you need about the tooth implant procedure or dental implant procedure that can bring your brilliant smile back!
You May Also Be Interested In