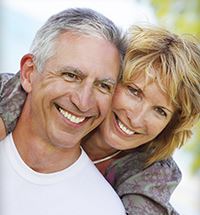 Though they are not as well known as conventional dental implants, mini implants are being used successfully in the Carlsbad area to improve smiles. Our team at La Costa Dental Excellence has helped many patients improve their smile with mini implants.
WHAT CAN MINI IMPLANTS DO?
Mini implants can support a restoration for one or more missing teeth or replace a bridge or fixed denture.
They benefit denture wearers greatly since they are slip-free dental implants that are inserted securely in the jaw bone.
If a patient is unable to receive traditional full-size dental implants due to insufficient bone thickness, then they are excellent candidates for mini implants.
There are also mini implant patients who are not able to endure dental implant surgery due to health issues. Again, these patients are often excellent candidates for the mini version.
We can place the toothpick-size mini dental implants sometimes in only one dental visit. The placement usually requires no incisions or stitches. Recovery time, if required, is commonly very short. Most patients are able to eat dinner that evening.
Don't let the word "mini" fool you; your smile can receive a maximum upgrade with mini dental implants. At La Costa Dental Excellence, serving Encinitas, Carlsbad or San Marcos, services include general and family dentistry, and a wide range of cosmetic dentistry procedures. Schedule an appointment today.
Contact La Costa Dental Excellence:
Location (Tap to open in Google Maps):